Architecture and Craftsmanship
An architectural journey into the world of wood construction to Volarlberg
04. – 07.05.2023
The ap35 invites you to the architectural journey to Vorarlberg / Austria.
The point is to travel, to expand the view, to create a new perception for exciting locations. Sustainable, conscious building in the environment of the mighty geographic as well as topographic alpine landscape.
Visit with us on our 'Architecture & Craft' excursion, places and wooden buildings in Vorarlberg, which are seen in their environment with the building historical and economic contexts.
In this way they are given identity and values. The population and tourism live this out for us – a benefit for the general public.
In recent decades, the Bregenzerwald / Vorarlberg region has been the scene of a new architectural revolution in the field of no-frills timber construction.
The opening to contemporary architecture, the embedding of buildings in the landscape and modernization have led to a profound rethinking of the region. Vorarlberg became a laboratory for architectural strategies and experimentation.
Experience the regional architecture, enjoyment, craftsmanship as well as the way of life in this region through guided tours by local architects.
Retrospect
Architecture and Craftsmanship
On Thursday afternoon all participants will arrive individually at the Hotel Martinspark in Dornbirn. From 15:00 the Alpitechture begins with the check-in, at 16:00 we go with our tour guide Peter Muxel on a discovery tour. In the evening there will be a dinner together in the panorama restaurant Karren in Dornbirn – the perfect opportunity for first encounters and getting to know each other nicely.
A feast for the eyes and the palate: During the day on both days, the participants will visit places and wooden buildings in Vorarlberg, which will be seen in their environment with their historical and economic contexts. During the visits there will also be exciting guided tours and informative accompaniment by local architects and builders of the respective projects.
The days will be rounded off with a joint dinner and a pleasant exchange.
After a joint breakfast, the Alpitechture excursion comes to an end.
Excursion program
Friday & Saturday
Friday
8 AM bus departure project visits
© Stadtbibliothek Dornbirn
© Eduard Hueber, archphoto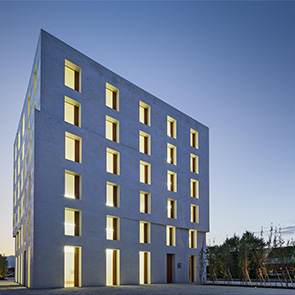 © Hascher Jehle Architektur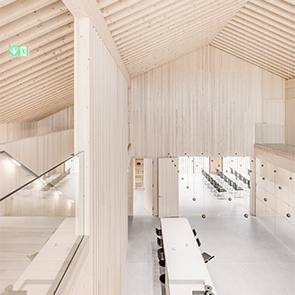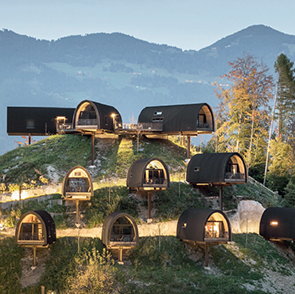 © Albrecht Immanuel Schnabel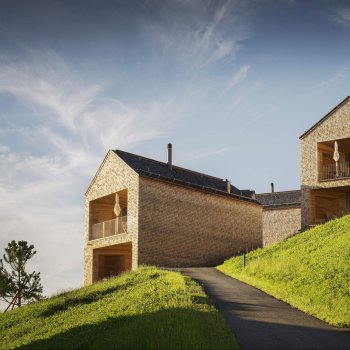 Saturday
8 AM bus departure project visits
© Albrecht Immanuel Schnabel
© Dorner Matt Architekten